Category: Product Classification
keyword:Quartz Tube | Quartz Plate | Quartz Rod
Quartz plate / sheet usually smelted and cut by quartz, they have a silica content of over 99.99%. The hardness is seven grades of Mohs, and it has the characteristics of high temperature resistance, low thermal expansion coefficient, thermal shock resistance and good electrical insulation performance.
The Quartz glass plate/sheet can be customized as customer's request.
Available Size:
Square Quartz Glass Plate/Sheet:
Round Quartz Glass Plate/Sheet:
| | |
| --- | --- |
| Diameter | 5mm-1500mm |
| Thickness | 0.5mm-100mm |
We Can Do:
1. Different raw materials for different application for customer choose.
  JGS1 (Far Ultraviolet Optic Quartz slab)
  JGS2 (Ultraviolet Optic Quartz slab)
  JGS 3 (Infrared Optic Quartz slab)
2. Strict size and tolerance control.
3. No air bubble no air line.
4. Professional inspection before deliver.
Advantage of Quartz Glass Plate/Sheet:
1. Resistance high temperature.
2. Good chemical stability, acid-proof, alkali-proof.
3. Lower coefficient of thermal expansion.
4. High transmittance.
Physical Property: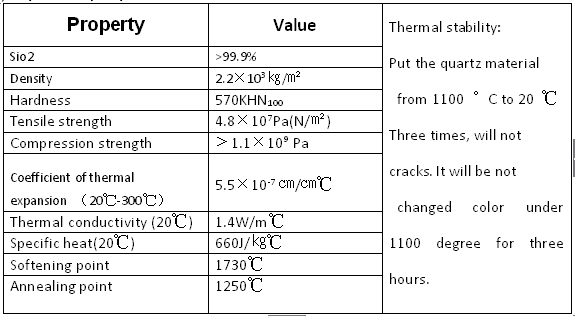 Applications:
Transparent Quartz Plate is widely used in electric light source, electrical appliances (electric), semiconductor, Solar, optical communications, military industry, metallurgy, building materials, chemical, machinery, electricity, environment-protection and other.
Spectrogram of JGS1, JGS2, JGS3: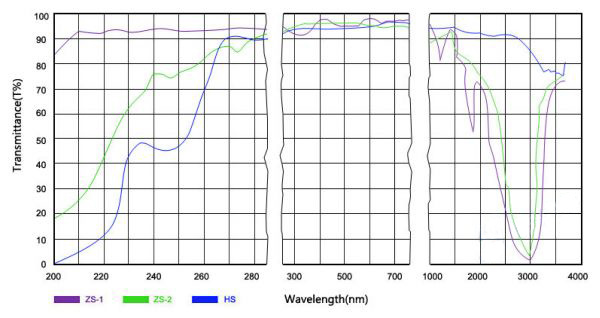 Online inquiry